It's no secret! I LOVE Craftsy and it's classes and am enrolled in quite a few of them! The FANTASTIC news is that they are having a Black Friday sale with up to 70% OFF Online Classes and Supplies!!
(Note all links are affiliate links so yes, if you purchase via the link, I will make a couple of bucks! LOL)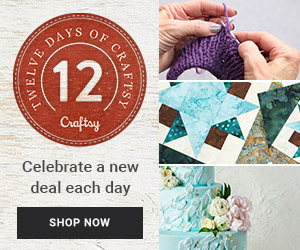 My friend Sara of Sew Sweetness has recently released a fabulous class on Interfacing and Structure. So if you have ever been bewildered by this topic, NOW is a great time to enrol in her fabulous class! 
Another of my favourite classes is this one:
Another one sure to please is this class by Lisa lam....ANYTHING Lisa does is always a winner so I am sure this class is no exception! 
Mind you....there are also Photography classes and Cooking classes and who knows what else classes on offer so DO pop over and check them all out! That's where I am heading NOW! :)
Happy Shopping!