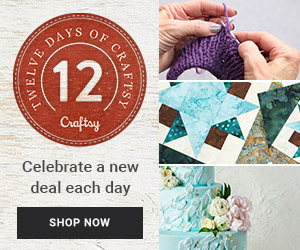 Shop Craftsy's Black Friday Sales!
This week, Craftsy is hosting some amazing sales on ALL their classes! WOOHOO! Gotta love this! I know I am going to be checking them out thoroughly! Especially the embroidery classes, since I have a new embroidery machine! Shame I don't have the TIME to do the class right now ....BUT the good thing with Craftsy classes is that once you purchase the class, they stay in your account and just WAIT until you do have the time! :) WOOHOO Gotta love that!
Here are the details:
(sponsored post so yes, I do receive a small commission if you buy via my links! :0)
From Friday through Sunday, Craftsy is hosting their Black Friday Sale! All Classes $19.99 or less! Now is a great time to get the classes you've been eyeing all year! Craftsy classes also make a great gift, so do some holiday shopping for the crafter in your life.

Shop now because you won't want to miss these incredible sales! 

Happy Shopping! :)